Instead of the Dishes » Frugal Fawn, Grocery Shopping, Spending Less, Travel » Beach Vacation Meal Plan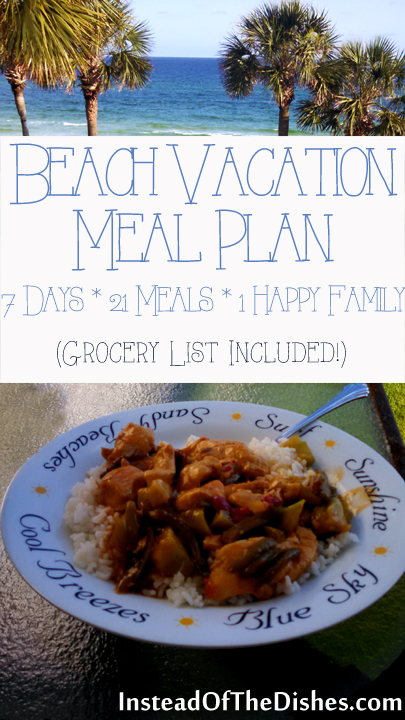 You've probably seen the jokes, or perhaps this article from the Onion,  about how moms still have to run a household when on vacation at the beach.  It's kind of true (I swept up at least five pounds of sand, ran three loads of wash, and cooked several meals on our last visit), but homesteading in a beach condo is still pretty nice if you ask me.
One thing that makes it a little easier is to have a meal plan.  I was surprised when I started looking online and didn't find anything that had what I was looking for – simple easy meals that everyone will like along with a grocery shopping list.  So, I made my own and I'm sharing it with you.
But first, here are some basic tips for planning out meals for your beach vacation:
Go Simple – unless you are a foodie, you probably don't want to spend your vacation in the kitchen.
Plan meals you know your family members like.
Select several recipes that share ingredients. It makes shopping faster and cheaper.
Bring dry goods from home.
Consider bringing a crock pot, or even pre-cooked frozen meals with you if possible.
At minimum, bring one meal that you can eat on the first night when you get there, especially if you are coming in on Saturday or Sunday, as the grocery stores will be nuts with all the other vacationers who have just arrived.
Find out if there is a grill at your vacation rental – that opens up a lot of easy options.
Leave room to eat out a few times, and also for eating leftovers.
I asked my Facebook friends to tell me their favorite, easy meal to cook in a vacation rental.  There were tons of great ideas.  Here they are to get your brain going: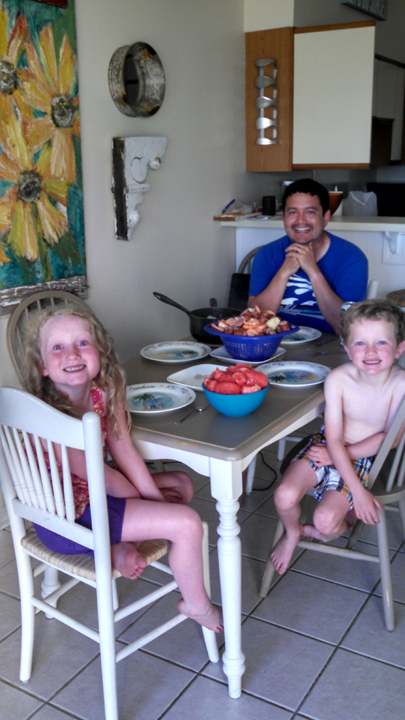 BLTs
Spaghetti
Chicken Enchiladas
Tacos (or taco salad)
Hamburgers and Hot Dogs with veggie foil packs on the grill
Spinach Ravioli w/ spaghetti sauce in crock-pot
Cheese Dip in crock pot
Pork Roast (all day in oven on low heat)
Mac N Cheese
Baked Potato Bar
Pasta Salad
Chicken marinated overnight in Italian salad dressing on the grill
Rotisserie Chicken
Frozen Lasagna
Stir-Fry
Shrimp Boil
Jumbalaya
Brinner (Breakfast for Dinner)
And finally, this is my 7 day meal plan that we used for our last trip to the beach.  It includes three meals per day, plus snacks.  Here's a quick chart of the meals (scroll down to download the PDF).
| | | | | | | | | |
| --- | --- | --- | --- | --- | --- | --- | --- | --- |
| | SAT | SUN | MON | TUE | WED | THUR | FRI | SAT |
| Breakfast | On the Road | Eggs & Bacon | Breakfast Casserole | Cereal | Biscuits and Gravy | Cereal | Breakfast On the Beach | Cereal |
| Lunch | On the Road | Sandwiches | Hot Dogs & Mac N Cheese | BLT | Eat Out | Leftovers | Leftovers | On the Road |
| Dinner | Spaghetti | Tacos | Chicken Stir Fry | Frozen Lasagna | Leftovers | Eat Out | Shrimp Boil | On the Road |
| Dessert | | Brownies | Ice Cream | Leftovers | Cookies | Eat Out | Watermelon | |
Download the Vacation Meal Plan PDF, which includes the meals, recipes, and a grocery list.
Filed under: Frugal Fawn, Grocery Shopping, Spending Less, Travel · Tags: Beach, Cabin, condo, eat in, grocery list, kitchen, meal plan, save money, vacation