Instead of the Dishes » 417 With Kids, Arkansas, Day Trips, Travel, Weekend Getaways » Shopping Small with the Help of the Elves in Eureka Springs

Disclosure: We received a one night hotel stay plus a Shop Small goodie bag in exchange for this blog post. All opinions belong to myself, my family, and that pesky ghost that came with us from the Basin Park Hotel.
We are long-time fans of the village of Eureka Springs, Arkansas. It's only about an hour and forty five minutes from our home in Southwest Missouri, but a road trip to Eureka is like going through a time warp. So, when we had the opportunity to visit for Shop Small Saturday (the Saturday after Thanksgiving) we were more than happy to head on down!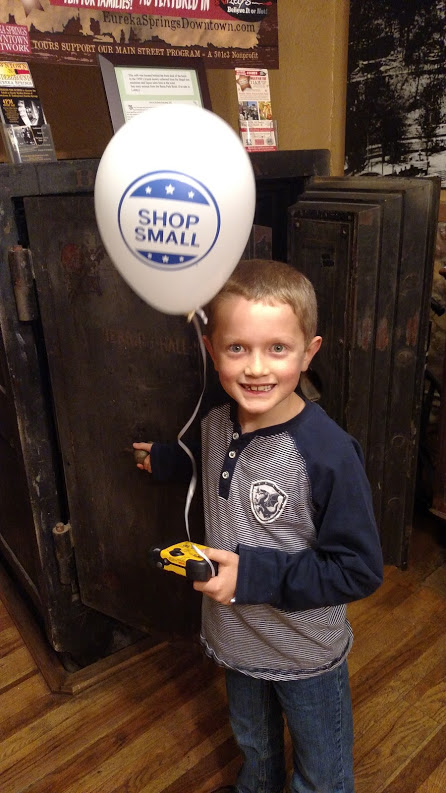 Often times we visit Eureka as a day trip, and usually during the summer and fall (it's a great drive for leaf viewing), although Craig and I have stayed in a couple B&Bs there. On our last day trip, we ate at the Balcony Restaurant and Bar. The kids were elated to get to tromp through the Basin Park Hotel to get to the restaurant after they found out that it is HAUNTED! So, imagine their excitement when they found out we would be sleeping at the haunted hotel this trip!
Upon check-in, we were given actual keys to our room. The kids thought this was crazy, and they were even more curious about the metal lever that controlled the transom above the door.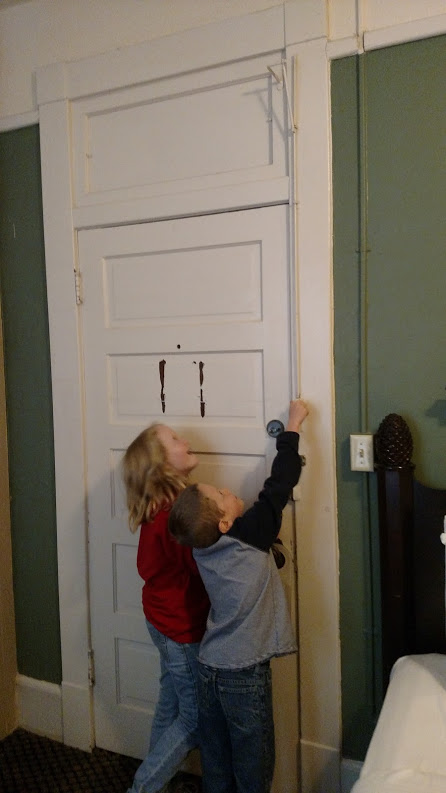 The Basin Park Hotel was established in 1905 and has kept closely to its historic roots. I was pleasantly surprised that our room had plenty of space for the four of us, since it's been my experience that most historic hotels have rooms that are rather small. Our room was nicely decorated with dark woods, stained glass lamps, and hunter green paint on the plaster walls. But, there was also a flat screen tv, coffee maker, and free wi-fi. The best of both eras.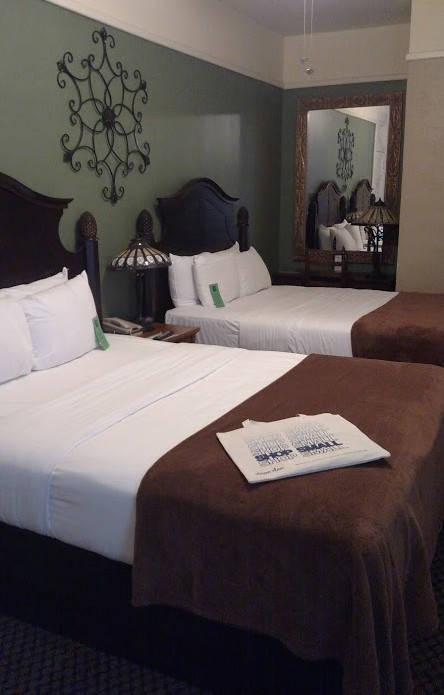 In addition to the great ambiance and the possible paranoramal residents, one of the best features of the Basin Park Hotel is that it is located smack dab in the middle of Downtown Eureka Springs. Once we dropped our bags in our room, we headed right back out to explore. We didn't have to go far to find our first surprise – Santa was in the lobby!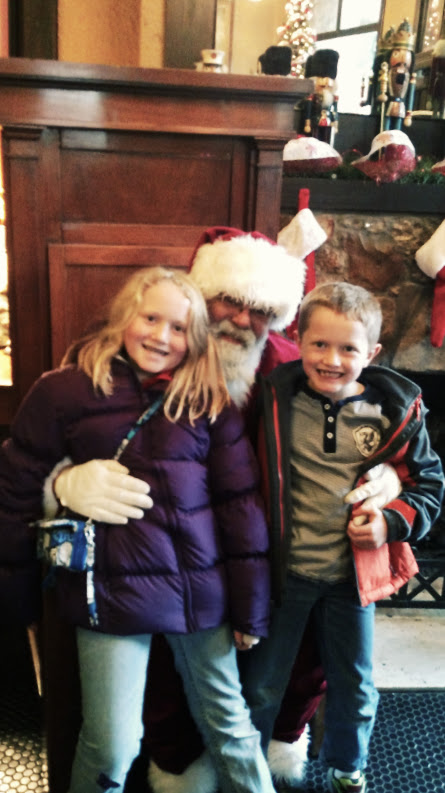 After we filed our wish lists with the big man, it was time for our mission! For Craig and I, that meant exploring the 90+ shops and boutiques in Downtown Eureka Springs. For the kids, it meant hunting down the 12 small elves hiding in the store windows along the way.
Yes, indeed, the brilliant folks at the Eureka Springs Downtown Network (ESDN) created the Elfie Selfie Contest this year. It made our shopping more fun for everyone! In combination with visiting many of the stores featured in the 10 Kid Friendly Shopping Destinations article on the ESDN website, as well as all the candy stores we could find, no one complained about too much shopping. Only, "let's go to the next store and see if they have an elf!"
90+ shops and 12 elves is a big mission to accomplish, so it was a good thing we stayed overnight. Despite having stayed up late to enjoy the Spirits of the Basin tour on Saturday night, We were back out hunting elves at 8:00am the next morning! Eventually we managed to find all 12, and found some amazing and unique shops in the process.
So if you think taking the kids to Eureka Springs on a cold, rainy weekend for a Shop Small Saturday trip isn't a good idea, you'd be wrong! There's plenty to see, tons to eat, and 12 special friends with pointy ears that will be waiting…
If you want to see more Eureka Springs fun, search #OnlyInEureka and/or #EurekaAfterDark on Instagram and Facebook. If you want to get in on the elf hunting action, check hashtag #ElfInEureka
Filed under: 417 With Kids, Arkansas, Day Trips, Travel, Weekend Getaways · Tags: arkansas, Basin Park, downtown, Eureka Springs, Hotel, Kids, Saturday, Shop Local, Shop Small