Instead of the Dishes » Arkansas, Travel » P. Allen Smith Flashback
It's dang hot. I was sitting here thinking about how long it's been since the weather was nice and not stifling, and that made me think of the day back in May when I visited P. Allen Smith's farm. THEN I realized that I had never posted all the just-plain-fun pictures from the day! So, get some sweet tea, turn on the ceiling fan and pretend it's a light summer breeze, and envision a warm sunny day with not a cloud in the sky.  Remember, the day is just warm.  Not lung-crushing, skin-searing hot. Warm. Breezes. Remember those? Ok, get ready to look at LOTS of pictures. Or you can just scroll really quickly to the bottom to find out how you can win a trip to go see P. Allen Smith's farm too.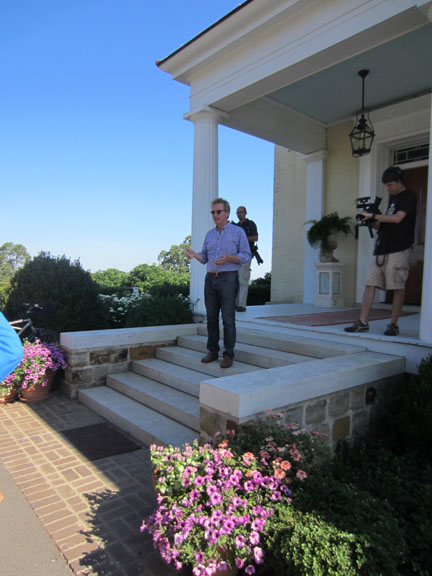 After a light breakfast on the lawn, we officially started the day with a tour of Allen's Garden Home. He gave us an intro from his front steps. It was interesting to see the presence of the camera crew and photographer throughout the day. I can't imagine what it's like to live a good portion of your life with a camera lens pointed at you. (I don't think I'd want to!)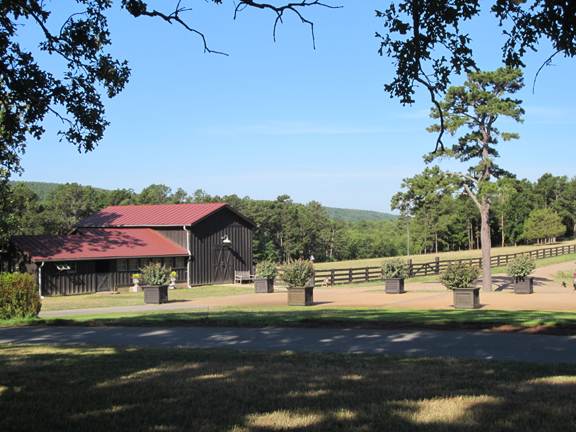 Allen told us that the house is actually only about 4 years old, but it was built to look old. The only original building on the property is this barn, which doubles as a gift shop.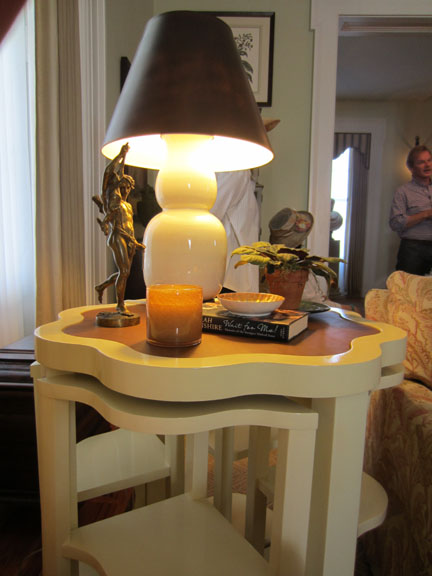 Touring the house was incredible. I felt like I had stepped into a magazine. I loved these nesting tables, which were designed and built by a friend of P. Allen Smith's.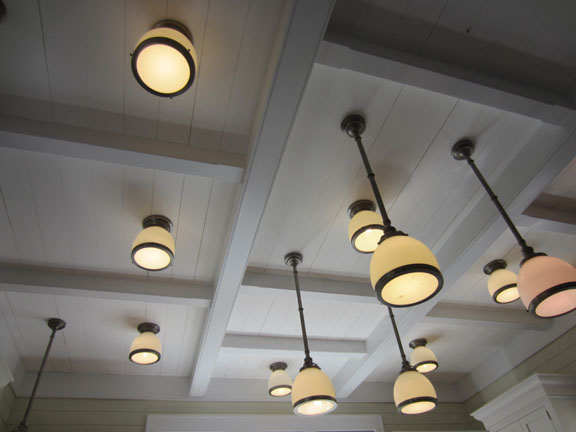 All the foodie bloggers freaked out in the kitchen.  I did too, but it was over the ceiling. The plethora of lights is visually interesting, and serves the function of allowing film crews to shoot the man at his work.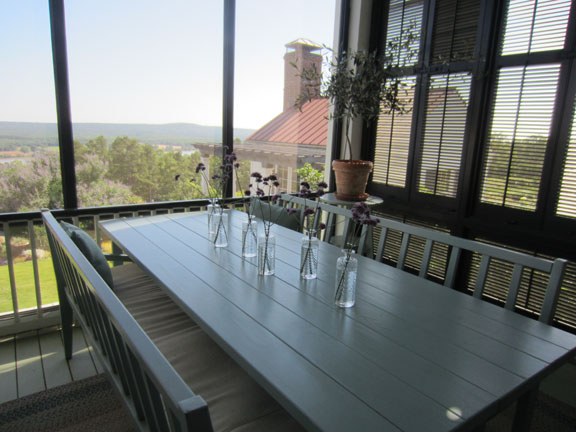 My favorite parts of the whole house were the screened in porches at the back. The first floor porch was very cozy, even though it was huge. I'd love to eat my meals at this table, and how about that view!?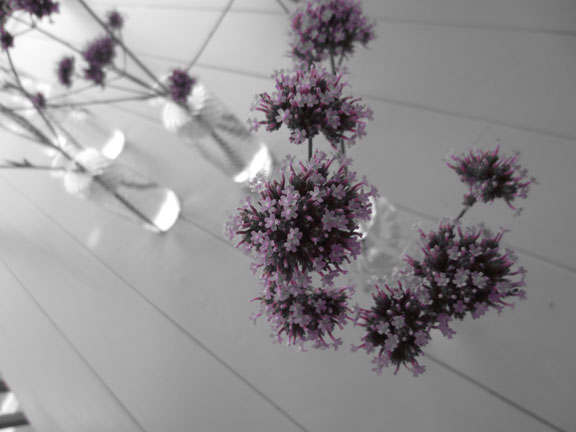 In many places, the small things caught my eye, like these pretty little purple flowers.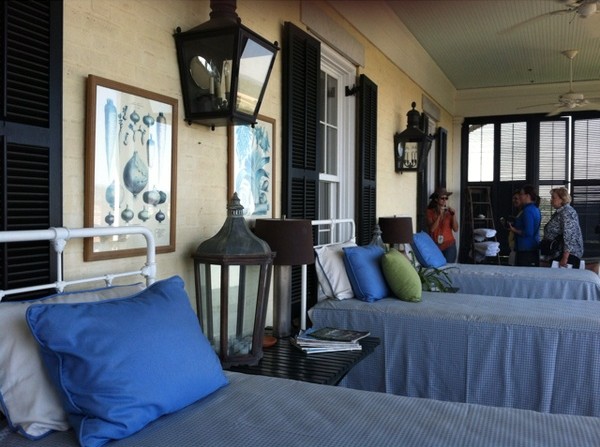 Photo credit: Cara Wilkerson from Live the Home Life 
And apparently I was so enamoured with the blue/green color scheme of the second floor sleeping porch that I walked around mouth agape, arms limp, and did not take a single picture.  Lucky for us, fellow blogger Cara Wilkerson did. And now my new dining room is green and blue.  Thanks for the inspiration P. Allen!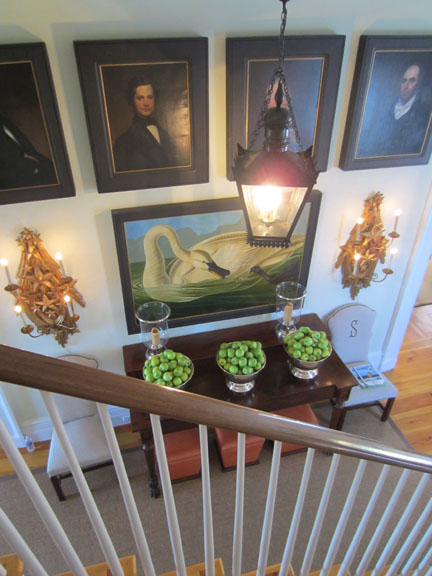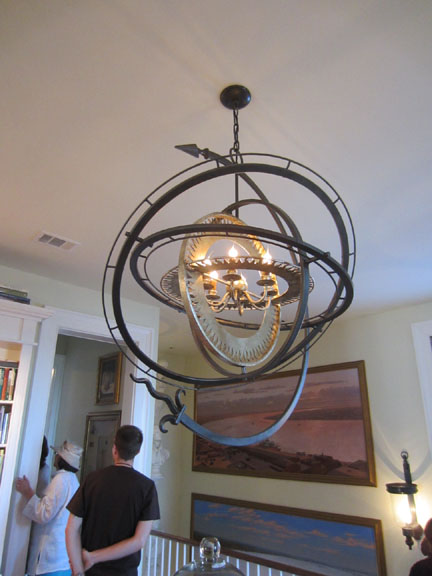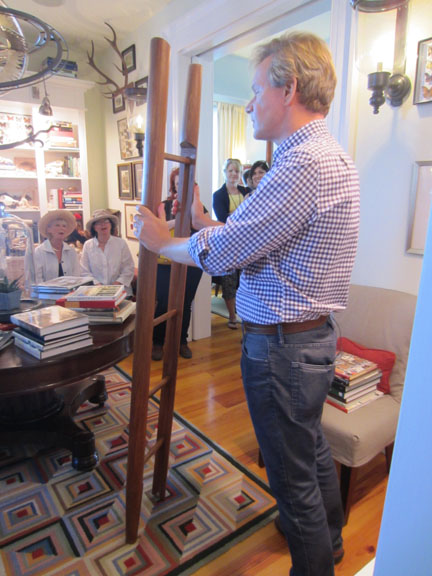 Along with the sleeping porch, the second floor of the house holds a guest room, master bedroom, and a library.  In the photo above, Allen is showing us how this ladder unfolded from what looked like a big stick. I want one.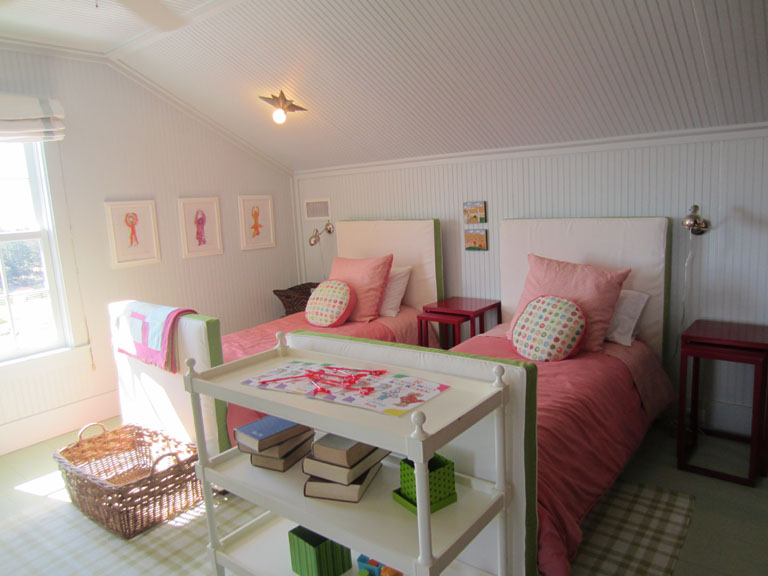 Way up at the tippy top of the home, there was a pretty space for kids.  It was way too nice to let actual kids loose in it, but I thought my daughter would love this corner.  One smart thing – all the fabrics in the kids' room are Sunbrella fabric, so it's relatively waterproof and wipes clean.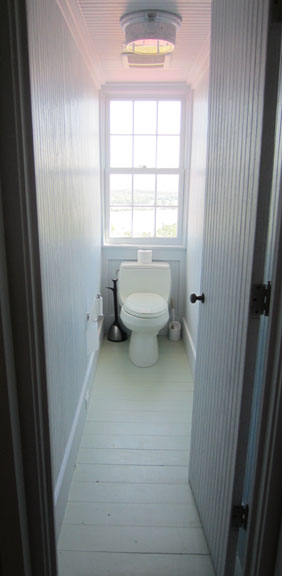 Every kid should have a potty with a view, yes?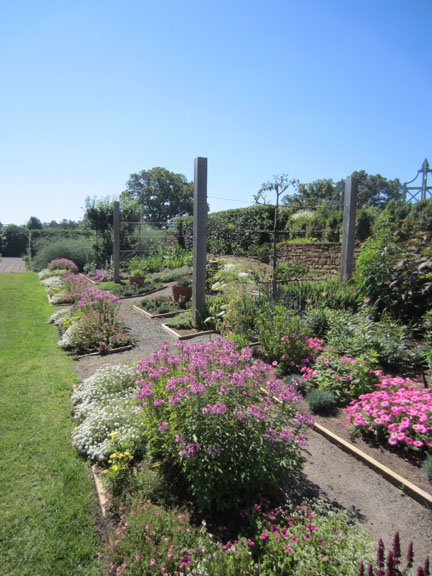 After the house tour, we headed outside to check out the gardens.  I loved this garden because it has a wide variety of flowers and bushes.  It wasn't all perfect with everything in straight rows.  There was some experimentation going on.  But, of course, it was still gorgeous.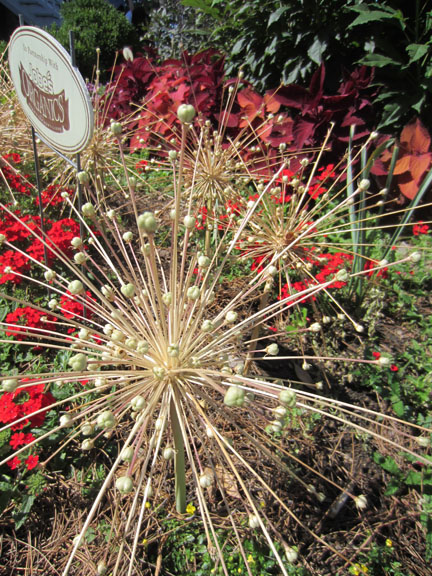 Allen told me what this plant is, but I can't remember what he said.  It blows my mind that something like this can grow out of the ground.  They reminded me of fireworks and/or a 70's starburst motif.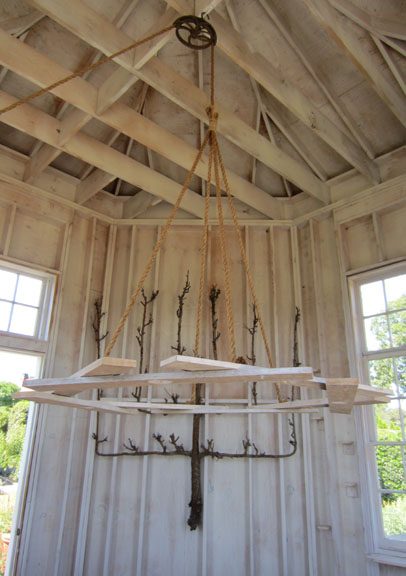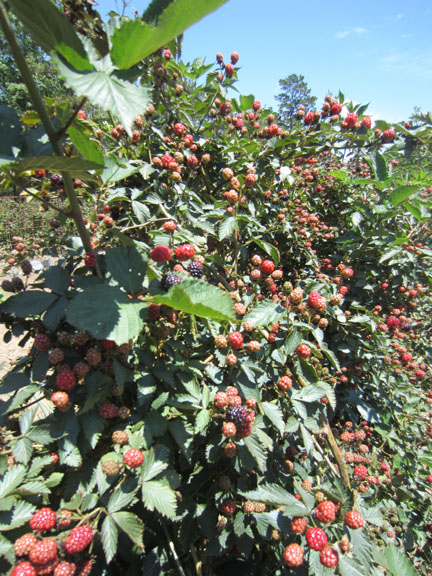 Blackberries in the 1 acre vegetable garden.  Yum!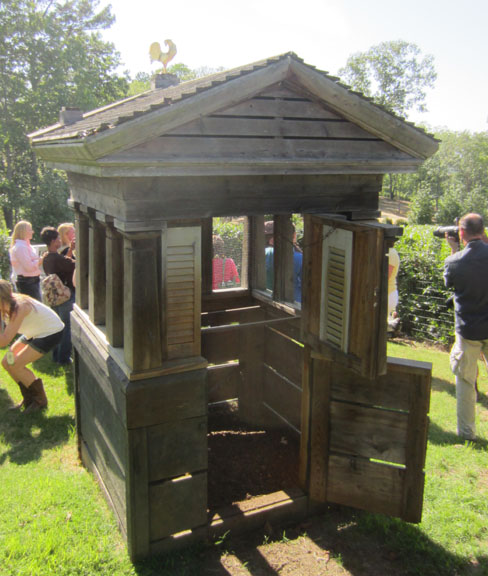 This is the fanciest chicken coop I've ever seen, complete with a gold guilded chicken on top.  What kind of chicken is fancy enough to go in this coop, you ask?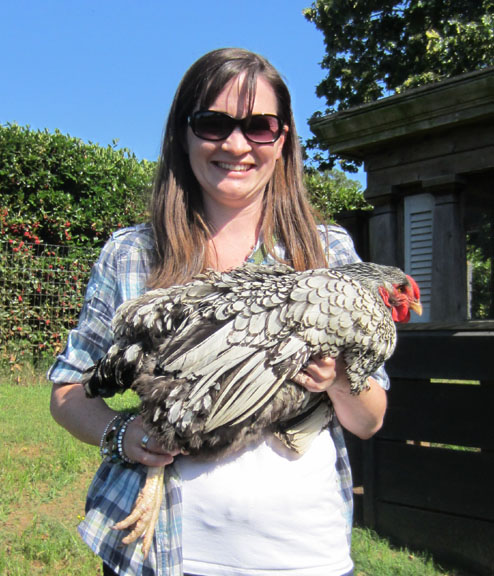 This kind.  I'm holding an incredibly docile and effusively fluffy Heirloom Silver Laced Wyandotte chicken.  You can tell she's from the south since she has four names.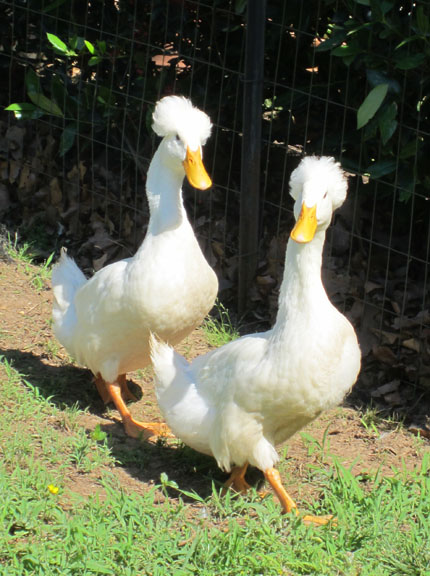 Ol' Silvie hangs out with some pretty fancy ducks too.  These are Einstein ducks.  Ok, I don't actually know what they are called, but that's who they reminded me of!
It was a great day at P. Allen Smith's farm with a great group of bloggers and farmers.  I learned a ton and created some great memories!
So, you want to create some memories with P. Allen Smith too?  Well, you can enter the Mountain Valley Sweepstakes to win a fantastic weekend getaway that includes:
Dinner with P. Allen Smith at his Garden Home Retreat

Private tour of the Garden Home Property
VIP tour of the Mountain Valley Facilities and the DeSoto Building
A two night stay in the luxurious Capital Hotel
Lunch with the CEO of Mountain Valley, Breck Speed
Spa package for two at the famous BuckStaff BathHouse
One night in historic downtown Hot Springs at the Embassy Suites Hotel and Spa
$100 voucher for use in the Mountain Valley Visitor Center
Entry deadline is August 31st!
Filed under: Arkansas, Travel · Tags: arkansas, Garden Home, P. Allen Smith