Instead of the Dishes » Arkansas, Not the Dishes, Travel, Write & Blog » #AWBU 2012: Whatever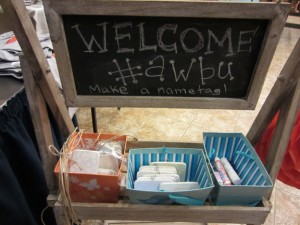 This past weekend I ran off into the Ozark Mountains of Arkansas to visit the new home of my dear bloggy friend, The Park Wife. Turns out about 70 other bloggers came to visit her too.  It was the second annual Arkansas Women Bloggers Unplugged (AWBU) conference, and oh my goodness, it was a big deal. If you want to see pretty pictures and more recaps, go here.
Since I am no longer part of the Arkansas Women Bloggers leadership team, I totally skipped out on the ridiculously huge amount of planning, prep, and loss of sleep involved with planning a full-on conference for 70+ women (and a few good men). Nope, that was all 100% Stephanie, Beth, and Julie. And let's not forget Lyndi, who planned and executed AWBU's Foodie Friday.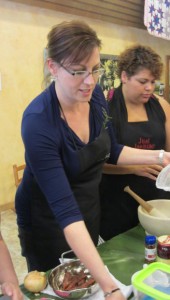 But, when AWBU 2012 was announced, I registered for the conference and shot the ARWB gals an email: "I'm coming to the conference. Plan to put me to work when I get there." Stephanie emailed me back: "You have to stay at my house then, so I can boss you around 24-7". Ok, maybe that's not exactly what she said, or did, but that's what she was thinking…
So, I pilgrimaged my way down to Mountain View, Arkansas and through the adorable little town to the Ozark Folk Center state park. There was tons of talk of cowboy boots and cute summer dresses prior to the conference, but I wore my blue jeans and my Keen sandals. I was ready for a weekend of behind the scenes action.
And, so, just like I recently wrote about in my approach to PTA, I became the AWBU "Whatever". Whatever needed done, I did it. I took direction from whoever would give it to me (except Jasmine). I enjoy being the Whatever. It not only gives me an inside track to what is going on, it positions me to do what I love best – helping others. It also allows me to be the missing link. A leaison. Not quite an attendee, but not quite a coordinator. Just the Whatever. Here are my unique experiences as the Whatever at AWBU 2012:
Even though I don't live in Arkansas any more, when AWBU 2013 rolls around, I'll be there, with my Whatever shoes on.  I cannot wait.
Filed under: Arkansas, Not the Dishes, Travel, Write & Blog · Tags: arkansas, AWBU, Bloggers, conference, Mountain View, Ozark Folk Center, re-cap, Women