Instead of the Dishes » Arkansas, Travel » I've Got the Blues
But in a good way!  Today I am wearing my "I Love Helena" t-shirt because I am getting really excited about heading down to the King Biscuit Blues Festival October 8-11 in Helena, Arkansas.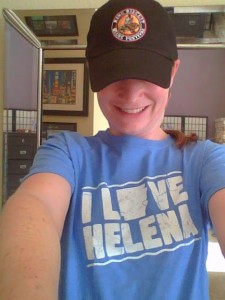 Over the weekend I learned about "Japanese Blues" at a Japanese Festival.
That was really interesting, but I couldn't understand what she was saying.
Then, a friend shared this video of this two year old singing the blues.
Very entertaining, but I couldn't understand him either.
The truth is that I don't really know much about the blues, and I've never been to Helena either. So, I checked out the website for the King Biscuit to see what I could learn. And wow, there are over 70 performances scheduled on the festival stage over the three day event, so I think I'll learn a lot!  I am loving the names of the bands and singers – Tyrannosaurus Chicken?  Coyote Bill, Essie the Blueslady, Wampus Cats, and The Funky Butt Brass Band, just to name a few.
I'm also looking forward to checking out the Helena area. They have lots of civil war history, fun places to shop, yummy southern food to eat, and we get to go paddling on the Mississippi river!  I'll keep you posted on whether that's an engine-powered paddle or a Fawn-powered paddle, but either way – fun!  I'll be instagramming, tweeting, and facebooking my way through the weekend with the hashtags #KingBiscuit2014 and #BloggersTakeHelena, and I'd love it if you follow along!
It's a 5 hour drive down to Helena from here, so I plan to listen to some blues music on the way down.  Do you have any suggestions?
Disclosure: My trip to Helena and the King Biscuit Blues Fest is being paid for by the Helena Advertising and Promotion Commission. However, this post was not requested or required as part of my trip.  All opinions and content herein were created by my own noggin (except for that 2 year old singing the blues.  I found him on youtube.). 
Filed under: Arkansas, Travel · Tags: arkansas, Blues Festival, Helena, King Biscuit