Instead of the Dishes » Arkansas, Travel » Down in the Delta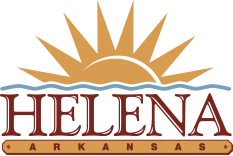 Helena, Arkansas is a small city on the banks of the Mississippi River. Some would call it a town, but I'm going to call it a city because of 1) Its size relative to other towns in the Delta Region, and 2) The number of descriptive words that come to my mind when I think about my recent visit there. Helena right now is such an interesting mix of things: historical, progressive, cultural, charming, adventuresome, southern, scenic, proud.
Helena has its issues; it was once a booming port town that is now fighting it's way back from the decline of the city due to decreased river commerce. From what I've seen, Helena is winning the fight, and they're doing it with a surprising mix of honoring the city's incredible past while also utilizing an array of initiatives to insure a vibrant future for Helena and the people that live there.
I first heard of Helena after watching the documentary Waiting for Superman. I was interested in the KIPP (Knowledge Is Power Program) charter schools featured in the film and found that there was one located in Helena. KIPP is a nation-wide network of schools that provides free college prep education for students in under served communities. In 2013 some of my blogger friends from Arkansas Women Bloggers spent the weekend in Helena and I read their posts. Earlier this year, I edited an Arkansas travel guide that has a section on Helena. So, when I set out a couple weekends ago to visit, I already had a picture of Helena in my mind.
It's a six hour drive from my home in southwest Missouri, through the Ozark Mountains and across the farm lands of eastern Arkansas to the Delta Region where Helena is the queen. I knew I was getting close when I drove through a cotton field. Coming in to town, I could see that West Helena, which was originally its own municipality and later merged with Helena, is where most of the city's industry is. Closer to the river, I started to notice that the houses had a wide array of architectural styles, evidence of the diverse cultures that Helena attracted in its heyday.
I was surprised to see hills, and even more surprised when I started noticing a green vine covering, well, everything. This vine, which I later learned is called kudzu, was originally brought in from Japan to help prevent erosion of the area's silty soil and now has taken over a wide expanse, quickly devouring trees, hillsides, telephone poles and radio towers, and even a few houses where it has gone unchecked.
My tour guide and host for the weekend, Julia Malinowski, is the director of the Helena Advertising and Promotion Commission. Her husband, Nick, is a teacher at the KIPP school. Neither of them are from Helena, or even Arkansas, but they have chosen Helena as their home, and both are working hard to make the city a better place. They are featured on the cover of the current Arkansas Relocation Guide, and you can read more about their story here.
As we strolled downtown Helena, I soon found that hanging out with Julia is like walking around with a famous person. Nearly everyone knew her, and they were anxious to greet her with a hug and an inquiry about the Blues Fest or who her unknown companion (me) was. One of the teams from the BBQ competition proffered up beers for both Julia and I, complete with a coozie. As we ambled further, we ran into Lynn and Dana, who chatted for a while and then invited us to breakfast the next morning. What a surprise that turned out to be! (more on that in my second post) Every where we went we found folks who were happily showing off their southern charm and hospitality skills.
Even people who didn't know Julia greeted us with a wave and a, "Hello Teacher!" After this happened three or four times, Julia explained that anytime the locals see someone that looks like they aren't from the area and are fairly young, they assume that person is a teacher that has come to town with the Teach for America program. Many of these teachers teach at the KIPP school, which is located right on Cherry Street, the "main drag" downtown.
In many ways, it felt as if the KIPP school was really the center of the revitalization process for Helena. Because it is right at the center of downtown, and because it is leading the way in creating better opportunities for the youth of Helena, the school seems to be leading the way for the city. The storefronts on Cherry Street are starting to fill back in with business. Many of the teachers who come for their two year teaching obligation with Teach for America stay on after their teaching is done – Julia is a Teacher for America alum herself, and a perfect example of that.
Julia invited me to Helena to experience the King Biscuit Blues Festival, and I will be telling you about all that amazing-ness in a future blog post. Today, I really wanted to get down in words some of what Helena is about, the part that you can't capture in pictures or read about in travel guides, the part that has really hung with me after my visit, and changed that picture in my mind's eye. Helena has lots of interesting things to do, see, and taste, but when you visit, I hope you are able to really get a feel for the essence of the city: pride in its past and hope, effort, and enthusiasm toward its future.
Disclosure:  My trip to Helena, Arkansas was paid for by the Helana A&P Commission. However, I was not asked to write this post, nor was I compensated for it. All opinions contained herin are specifically my own.
Filed under: Arkansas, Travel · Tags: arkansas, Helena, KIPP, kudzu, Teach for America, Visit